MF002 Brass Manifold 2-12 Ways Collectors for Floor Heating
Product Detail
Product Tags
The manifold is a water collecting device used to connect various heating pipes for water supply and return in heating. Press the incoming and outgoing water as the water separator and water collector. So it is called the manifold, commonly known as the manifold.
In addition to all the functions of the standard manifold, the intelligent sub-catchment also has temperature and pressure display functions, automatic flow adjustment functions, automatic water mixing and heat exchange functions, thermal energy metering functions, indoor zone temperature automatic control functions, and wireless And remote control function. In order to prevent corrosion, the manifold is generally made of corrosion-resistant pure copper or synthetic materials. Commonly used materials include copper, stainless steel mesh, copper nickel plated, alloy nickel plated, and high temperature resistant plastics. The inner and outer surfaces of the manifold (including connectors, etc.) should be smooth, free of cracks, blisters, cold barriers, slag inclusions, unevenness defects, and connectors with electroplated surfaces should have uniform color, firm coatings, and no deplating defect.
1. Green health: Nickel is a recognized green metal. The surface of the water separator is nickel-plated and installed indoors. It is environmentally friendly and healthy under high temperature conditions.
2. Safe and secure: a sealing ring is added between the ball valve of the water separator and the main pipe of the water separator,and the high-quality anaerobic rubber sealing connection is used for double protection, strict and safe.
3. Beautiful and durable: equipped with beautiful and durable retaining side plate, the side plate surface of the block is made of spray-painting process, beautiful and long-lasting.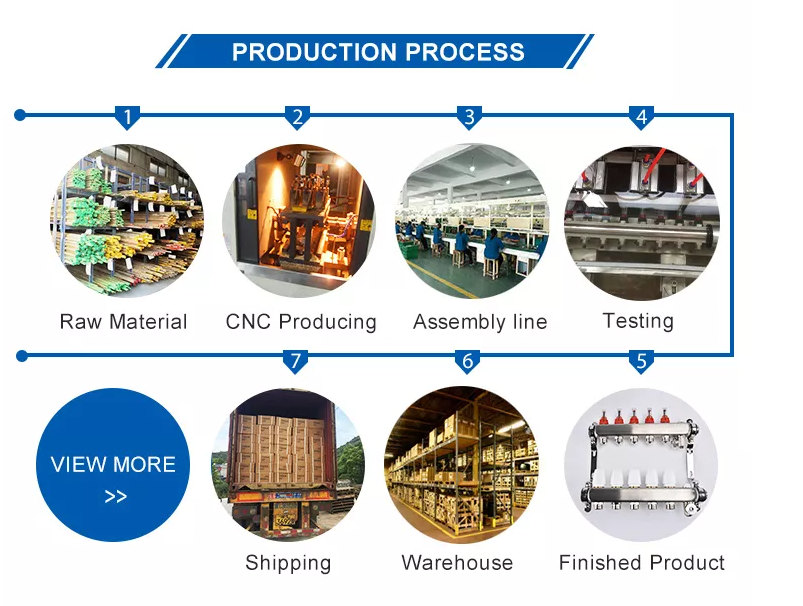 ---
---
Write your message here and send it to us